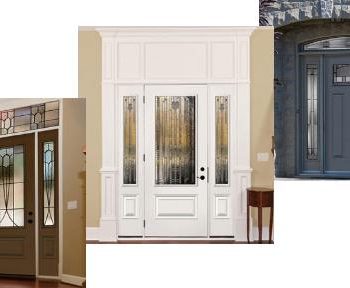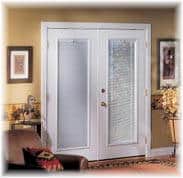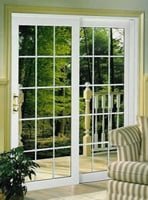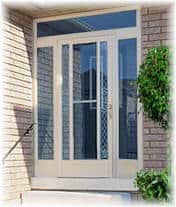 If you are looking for a new Entrance door, to replace an aging Patio door, for a new look Garden door or a Storm door with a Hidden screen
We can acomodate your needs with our proven Quality Products coupled with our unbeatable 10 Years Professional Installation Guarantee
ENTRANCE DOORS
Available in Steel & Fiberglass with hundred's of glass options for every taste
More energy efficient and secure than wood
Paintable to any color, will custom match
Won't warp, rust or split. Maintenance free
Optional laminated or vinyl wrapped jambs
Custom glass, transoms and sidelites available
Click TOP RIGHT TAB To See Glass Options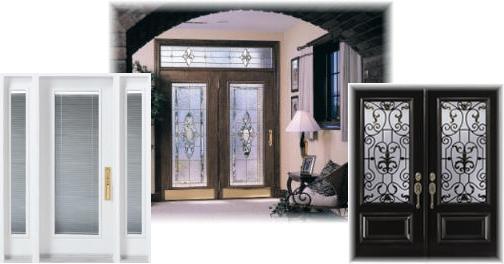 5 times more energy efficient than wood

Stainable or paintable to popular colors

Won't dent, warp, rust or split

Optional stained frames to match

Custom glass, transoms and sidelites
Click TOP RIGHT TAB To See Glass Options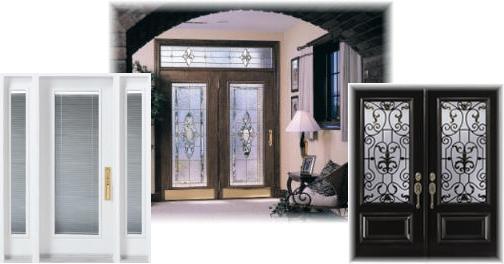 GARDEN DOORS
Many styles to choose from
Many grids, patterns and styles
Paintable to any color, will custom match
Won't warp, rust or split. Maintenance free
Optional laminated or vinyl wrapped jambs
Custom glass, transoms and sidelites available
Click TOP RIGHT TAB To See Glass Options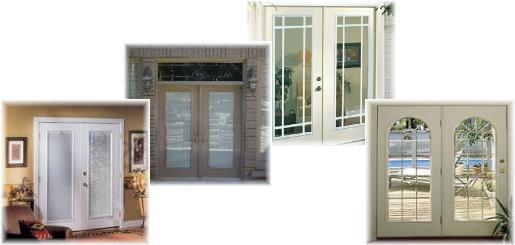 PATIO DOORS
Grids, Internal blinds & more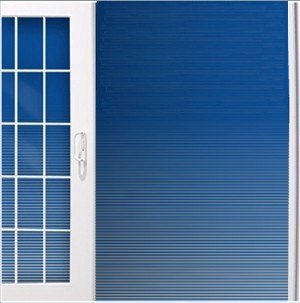 uPVC Vinyl and COMPOSITE frame components are fused together for optimum strength.

Self lubricating zinc coated tandem panel rollers provide smooth gliding action.

Contoured bumper brackets secure fixed panel and are the active panel stops.

All exposed aluminum is anodized to prevent corrosion.

Plain stiles and interlocks are steel reinforced. Lock stiles are aluminum reinforced.

Sash panels are co-extruded with dual durometer flex P.V.C. surrounding the entire 7/8″ sealed glass unit for optimum seal and added strength.

Specially designed drainage system to prevent water from being trapped under I.G. unit.

Exclusive nylon screen roller system with an independent suspension at all four corners is  designed with a side adjustment screw for easy leveling.

Each individual wheel is precision-machined using a highly tensile strength plastic material called Delrin®.

Heavy duty extruded aluminum screen frame with nylon mesh, is designed for easy removal.

High Performance Sill Dam Adaptor (tested to AAMA SGD-40 Classification)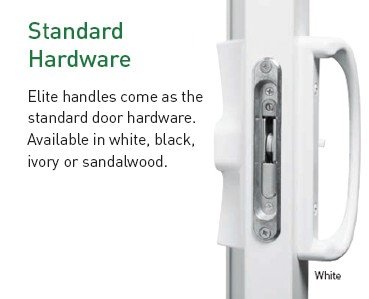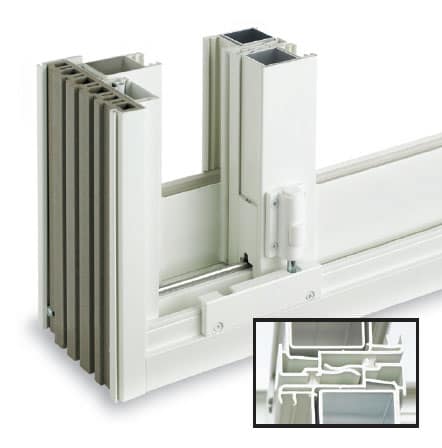 Kick Locks (STANDARD with our doors)
Low "E" Argon and Tinted glass

Grids in Aluminum, Pencil Brass, Pencil Pewter and V-Groove

Security aluminum bar

Internal blinds (tilt and raise)

White, Ivory, Sandalwood, Brown and custom colors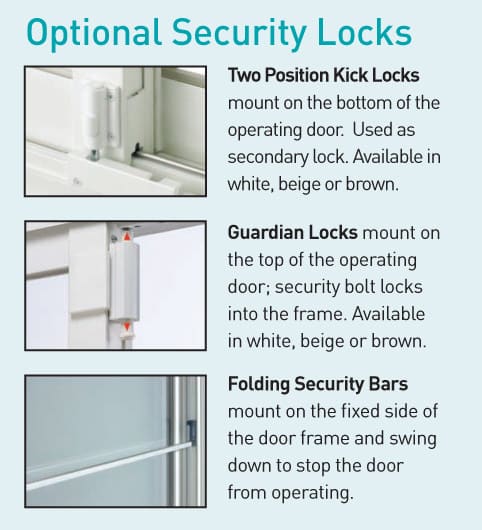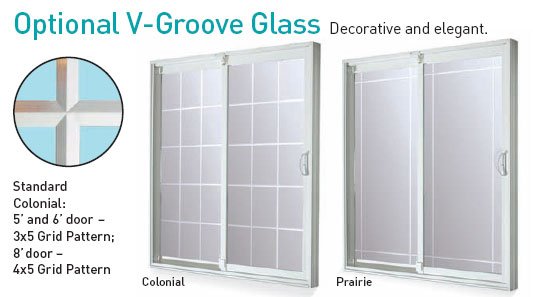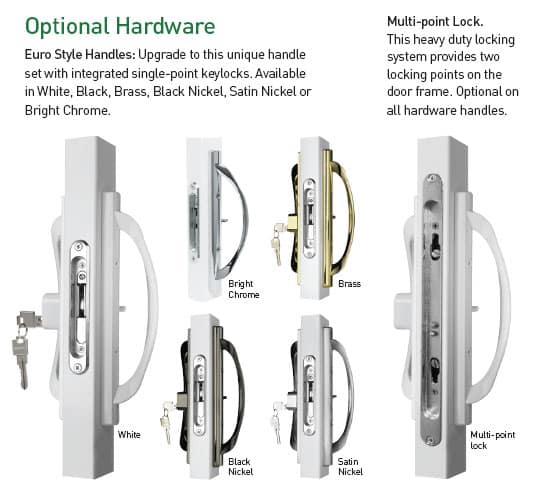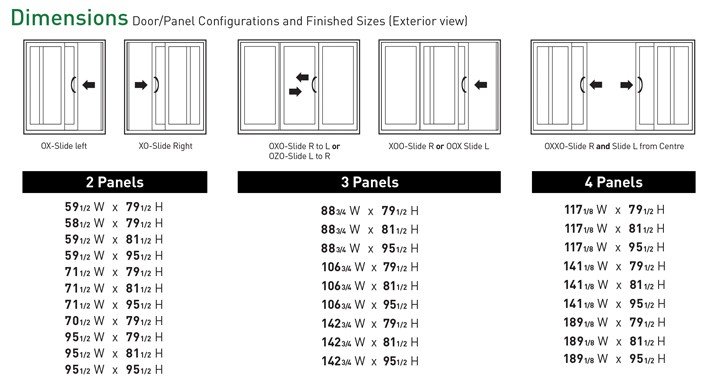 STORM DOORS
Many styles available (some with Hidden Screen)

Our storm doors are manufactured to withstand the constant daily use for years to come, while adding extra security when greeting strangers to your home. The same rugged construction keeps the rain and snow off your entrance but allowing light in.
Our storm doors are designed to conserve heat in the winter, ventilate during the summer, beautify and protect Canadian homes year round.
Wide selections of standard baked-on-enamel finishes are available to compliment your homes colour scheme.
Reinforced die cast corners

Four heavy duty hinges with oil-lite bearings

3 mm tempered glass

Black durable aluminum screen

Superior weatherstripping system

Color matched heavy duty hardware for smooth operation

Backer angle for a complete finish

Conforms to CGSB standards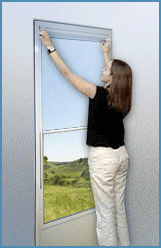 The HIDDEN VENT retractable screen is designed to give you a clear view when closed and allow for ventilation when opened.
The HIDDEN VENT keeps your screens clean and makes cleaning the glass a breeze. The screen is located in an enclosed cartridge on the top off the glass area. The screen is connected to the operating sash and when the glass is lowered, the screen follows. When the glass is raised to the closed position the screen retracts out of sight back into the cartridge. The HIDDEN VENT is available in the Tri Lite, Self Storing and High View model.